Hi everyone! Quick intro about myself, my name is Anthony and I lead the product operations function a Tray.io. Tray is a low code automation platform that helps automate some amazing processes, like the one I'll explain below.
We've been Productboard customers for sometime and candidly but have struggled opening the doors to our friends in GTM around feedback and our plans. Specifically, the challenge of capturing more structured feedback from our AEs, CS teams and SEs. Feedback from these teams had started to quiet down.
To tackle this, we decided to meet these groups where they already were, in Slack!
Solution:
We've built an internal slack app that tailors an experience depending on who the user is submitting on behalf of. Wether that is themselves, a prospect or a customer. The modal is dynamic enough to adjust based on the selection and the data captured is of course sent to PB as a note but in addition we also route to multiple slack channels (depending on selection), and back to Sales force as a note on the relevant opportunity.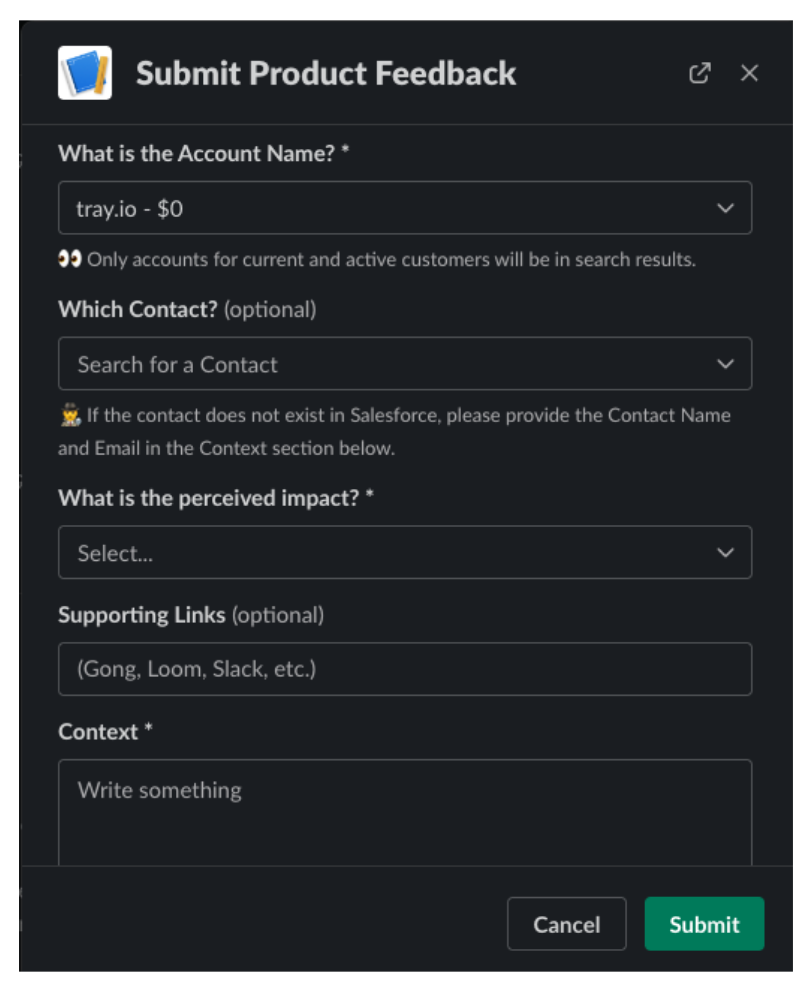 Outcomes:
Over 100% increase in product feedback submissions since going live with the slash command
Quality of the notes has increased dramatically, we're seeing much more context that is supplemented by our CRM data, including WHO shared the feedback.
Flexible process that we use in combination with Productboard native slack integration, which we still continue to use for longer threaded conversations and for our community.
I'd love to hear how others have tackled capturing feedback internally while balancing speed and quality.